Post by Pure Miriam on Apr 20, 2018 2:30:58 GMT -6
Bloodstained: Ritual of the Night's kickstarter had a new update, (see the update
HERE
, and the thread about it
HERE
), regarding a extensive survey the dev team is doing to improve their communication and receive feedback about several important matters. Alongside mandatory and basic questions, some questions there shows some kind of really interesting information. They warned us that the survey doesn't necessarily means that everything there will show up in the game. But who knows, right?
Considering that, although there were other interesting options, the main ones would be regading game's content. So, here comes my traditional thread of questions about updates, this one, greatly tuned thanks to the survey itself.
---
Hey guys, keep in mind that if you would prefer to keep your answers confidential, giving answers here (especially to #15) will pretty much make it obvious who was who if you are worried about that. Just wanted to mention it, no one is going to maliciously use your data or something!
(thanks
purifyweirdshard
for that warning)
I also add that you don't need to answer anything you wouldn't like to!
---
The Dev team proposed / suggested alternative outfits. The options were Valkyrie (Armored), Angel, Demon, Succubus (provocative), Vampire (Elegant), Nun, Maid, Corrupted (fully overtaken by the curse), Bikini / Beachwear, Outfits to match existing accessory sets and Other. The questions below are regarding that.
Lightning (Final Fantasy 13-2) as a Armored Valkyrie
1)
Regarding Valkyrie (Armored) option. The "armored" there means that it isn't a "sexy" Valkyrie, but a full armored one. Would you like to see a version of such outfit, that is more sexy and provocative than warrior-like?
---
Shanoa with Volaticus Glyph
2)
Regarding Angel and Demon options. If miriam had such outfits, would you like if they somehow altered some powers, visually speaking? Like, if Miriam had the ability to fly by creating wings (such as Volaticus Glyph on Order of Ecclesia) she could have default black wings, but angel wings wearing Angel outfit and demonic wings wearing Demon outfit. Keep in mind that, game development requires resources (both money and time) and do something like that would require more programming and resources.
---
Shanoa's werebat form in Order of Ecclesia. Completely naked.
3)
Regarding Succubus (provocative) option. How much "provocative" would you like such outfit to be? Like Symphony of the Night's Succubus or going steps further, maybe such as Werebat form from Order of Ecclesia (that is basically naked, maybe Miriam would have strategically placed long hair, wings or legs and cam position to hide spots).
---
4)
Regarding Vampire (Elegant) option. How would you like to see that? As a "modest" form of Succubus? Maybe a long elegant dress like Carmilla from older games? Or maybe a female version of Alucard's attire?
---
5)
Regarding Nun and Maid options. Such options are blatantly based on kinks and fetishes. Would you like, if such outfits existed, to follow the traditional kink role (short skirts, garterbelt, pantyhose, cleavage) or to go a step into the modesty zone and actually use real-life versions of such clothes?
---
6)
Regarding Corrupted (fully overtaken by the curse) option. Do you believe such option means that we will not have a corrupted version of Miriam to play with? That will not happen at the game's plot? Or the option being there is a way for the dev team to actually DODGE such speculations?
---
Dead or Alive 5 bikini
7)
Regarding Bikini / Beachwear option. As stated above, such option is clearly a kink / fetish option and this one would be even harder to conceal as something else. If such outfit existed in game, would you prefer it to be something clearly risky (such as Dead or Alive 5 bikinis), something not so risky but quite taboo (such as japanese schoolgirl swimsuit) or something classic and elegant (such as old swimsuits, that looked like full body suits)?
---
8)
Regarding Outfits to match existing accessory sets option. The game has shown quite a lot of outfits already, such as Bunny ears/stockings, Maid Headress, Elven Ears, Spiked Hair, Sunglasses, Panama / cowboy Hat and Santa Hat. Considering such accessories, would you like to see some of them having outfits to match them? Choose some.
---
9)
Regarding "Other" option. Did you picked up such options? What have you offered as suggestion for outfits?
---
One of the questions is regarding DLC content. The options where Cosmetics / skins etc, More playable characters, Full story content expansions, Full multiplayer & co-op for existing game, Mod support / Castle editor and Other. The questions below are regarding that.
---
Bunny accessories
10)
Regarding Cosmetics / skins options. Almost every game nowadays, offers such option as DLC, because many players consider them to be something not mandatory for a game. Even so, there had some criticism in the past about the overload of cosmetics DLC (Dead or Alive 5 Last Round, being a good example, all DLCs of the game, if bought separately, costs more than the game itself). What are your thoughts regarding that?
---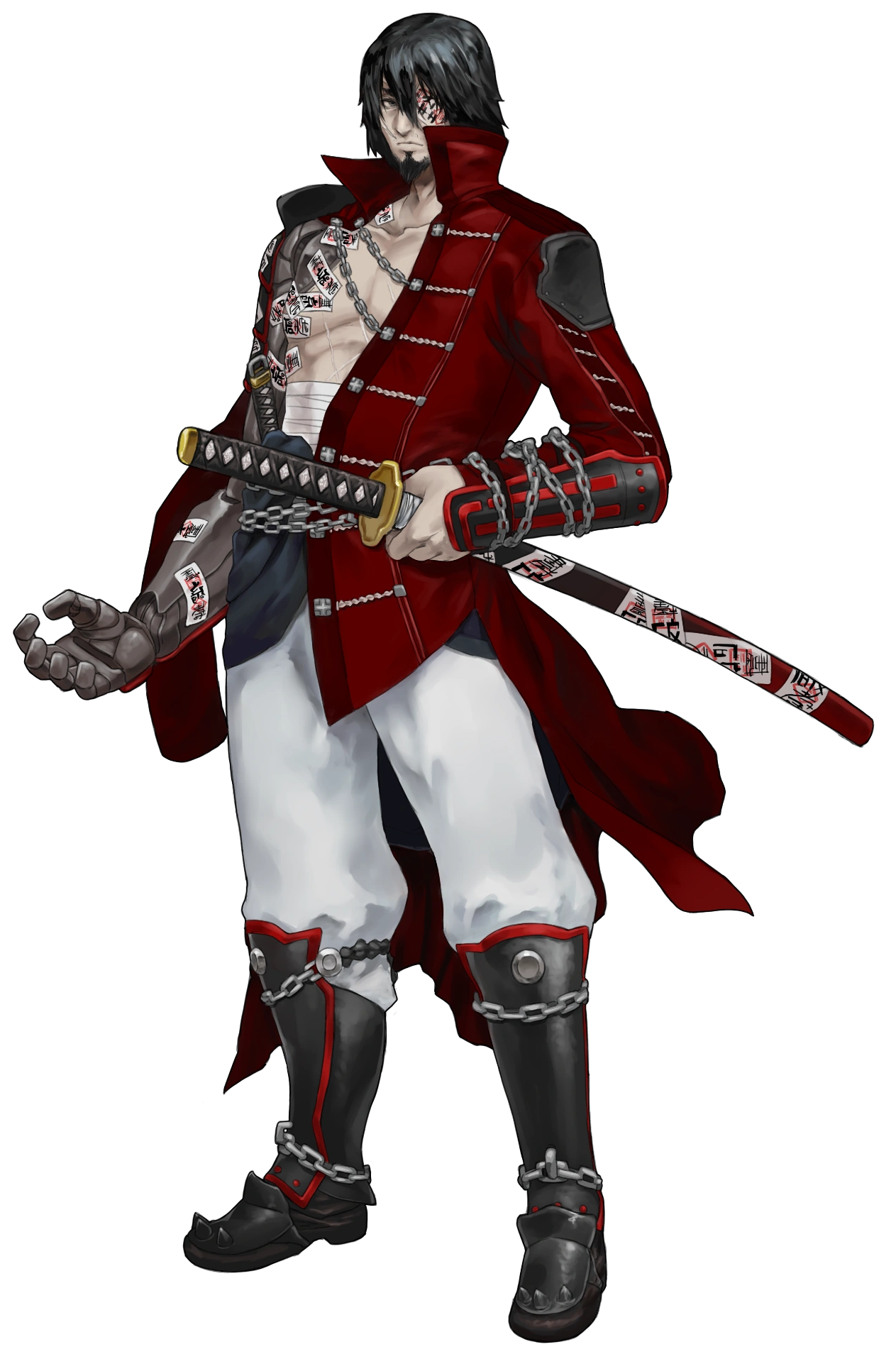 Zangetsu
11)
Regarding More playable characters option. Most speculation about Bloodstained's three playable characters revolve around Miriam (mandatory), Zangetsu and Dominique. Let's assume for a second they will really be the game's default playable characters. If the game ends up having a playable character as DLC, who would you choose to be? (excluding Miriam, Zangetsu and Dominique).
---
12)
Regarding Full story content expansions option. This is, by far, one of the most infamous and unpopular options in gaming DLCs. Many players consider that expanding a game's plot through DLC is a cheap way of money farming. But some players see it as a great way to expand a game's content and keep it alive. What are your thoughts about this?
---
13)
Regarding Full multiplayer & co-op for existing game option. What do you think this option really means? Putting multiplayer and co-op options from the stretch goals as DLC, or expanding such content by DLC?
---
14)
Regarding Mod support / Castle editor option. Although many players would surely love that, by offering official mod support and / or castle editor options, there is a chance that this could actually hinder such possibilities, since official tools can be more limited than the freedom of "breaking and entering" inside a game's content. A good example of this is DOOM 2016 "snap map" editor, that, although fun, many players considered really restrictive. What are your thoughts over this?
---
15)
Regarding Other option. Did you picked up such options? What have you offered as suggestion for DLCs?
---
That's all folks!This thread is dedicated to

A Man in Flames

who had the audacy to challenge me to create it.