Post by crocodile on Jul 12, 2016 19:55:08 GMT -6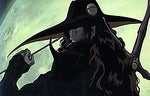 The way I see it, consumer products respond to consumer hunger: if the hunger is there, consumers will eat the products up; but if you're stuffed, then you won't be eating anything, no matter how good the product is.
So, if you launch a game and it's successful, you'll leave people hungry for more, which justifies the existence of the tie-in; but if you launch a game with too many tie-ins, you risk stuffing the consumer base before it's gotten a chance to develop a real hunger for the franchise.
With well established franchises like Batman, Spiderman, Star Wars and such, the amount hunger for tie-ins is already well known - and note that these did not exist when the original property was launched. It's similar with Final Fantasy XV: while the game itself is new, the franchise itself is old (and the original property did not have any tie-ins).
When you attempt to launch a property as a multimedia franchise, you're making the
initial
acceptance of the product that much more difficult, because there's already all this "food" before you're even hungry. You've had
enough
of the game before you've even tried it. This is the gut reaction, I think, but it needs a rationalization. So, the rationalization becomes something like this:
which is the main property? The game? The comic? The anime? The book? Why does it need so many mediums? Do I get the full experience if I just get one, or is each designed to lure me into buying others?
In the case of a Kickstarter, the rationalization becomes much more straight-forward: they're using my money without my permission. This may not be the case, but it doesn't matter - people are trying to rationalize their dissatisfaction.

Most powerful of all, I think, is this apparent contradiction: if this is a property that needed crowd funding to get off the ground, why is it suddenly a franchise? Now, you can argue that the answer is simple: the crowd funding success is what enabled the property to become a franchise in the first place. But that's not the way people's perception works: the sight of an "independent" game being marketed like "fully-established" property makes the "independent" label seem like a scam, even if it isn't.
This is what I ultimately think marketeers misunderstand: it's one thing to bring out tie-ins with the
latest installment
to an established franchise, and another to launch a new franchise with countless tie-ins to begin with. It goes double for crowd-funded projects.
Is this based on any data or just anecdote and "gut"? You're of course right in that its a risk if you try a multimedia approach and the main, anchor product is subpar but there have been too many examples of new IPs or IP launches in new markets (where you aren't guaranteed to replicate success) or significant reboots (significant enough to not have a guaranteed audience) that have successfully launched with a multimedia approach to say issues with demand is a given. One of the boons of trying a multimedia approach is that if your base product is successful, you are already primed to make a lot of money and fast. For some of these IPs, the time to capitalize off them (or at least extract the most money) can pass if you wait for confirmed success before you launch your off-shoots. A multimedia approach also has a reinforcing effect. If your main product is a videogame, having a TV show or a comic or whatever can reach those who aren't interested in videogames but consume those other forms of media to become aware of your IP. That hook may lead them to explore the game itself or other related media. It also allows you to exploit multiple revenue streams from the same person or groups of people.
The part I underlined is something I've anecdotally seen in the wild though and its unfortunate because as I said before, it's rarely born out of any truth or reality - just assumptions. It also REALLY reminds me of this picture below (which also applies to a million other cases in life):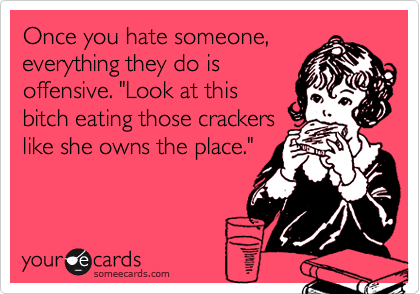 Once people decided they hated MN9, literally anything they did was seen in a negative light. Combined with the actually dumb stuff they did, it was not a good time for Inafune et al. I think for KS projects, the most important commodities are goodwill and trust. Because of this, I think a slow burn approach is the best way to go (which I think overall is your point - I just took objection with some of your characterizations of multimedia strategies). Shovel Knight is perhaps the ur-example. Crossovers are super common in the indie world in part because of a shared sense of comradeship ("we are all indies!") and because most indies are very lax with their IP and will loan it out free-of-charge to any fellow indie they like and trust. Shovel Knight however is
crossover happy
with I think is up to like 14 different game/IP crossovers (Battletoads, God of War, Runbow, Bloodstained, Gunvolt, Indivisble, Starr Mazer, Crypt of the Necrodancer, Cook, Serve, Delicious: Battle Kitchen, The Reward: Tales of Alethrion, Road Redemption, Creepy Castle, Pixel Noir & Move or Die). All those things help build exposure for the Shovel Knight brand. That combined with stuff like the amiibo has really elevated the Shovel Knight IP. That's probably the best avenue to take with Bloodstained just because backer trust can be so finicky. Maybe a small cross media project like a short manga (sorry
Goobsausage
but I doubt Marvel or DC even know or care about Bloodstained right now - maybe years in the future if the game is a HUGE hit) but launch the game, expand its exposure through the videogame landscape (crossovers) and than build upon that with merch or an OVA leading into or alongside a second game. Something similar to like Inticreates is doing with Gunvolt.