View Profile - Motoko (motoko)
Motoko
Spell Binder

Send Message
Username:
motoko
Last Online:
Oct 19, 2017 22:16:37 GMT -6
(0) Online (1) Offline
Friends are members that are following each other.
Shoutbox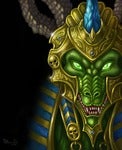 Galamoth
:
As I imagine it, the actual character of Galamoth is a sore loser ...especially in the Kid Dracula games of his origin. I typed up a "defeat" quote in that thread, accordingly.
Oct 19, 2017 19:44:11 GMT -6