Post by crocodile on Aug 15, 2015 9:51:47 GMT -6
The guys and gals at Lab Zero Games (the people behind Skullgirls) are behind a new game called
Indivisible
- an action RPG influenced by the likes of
Super Metroid
and
Valkyrie Profile
. Field movement and exploration are very much in the vein of
Super Metroid
and combat is in the vein of
Valkyrie Profile
.
The campaign can be found here on Indiegogo
. The game has been funded and will be released on PS4, Xbox One, Windows, Mac and Linux platforms. The initial goal was $1.5 million (with 505 Games, the semi-publisher, putting in $2 million if and only if this gets funded) for a total budget of $3.5 million. Any money beyond that will of course go into making the game even better though major additions like extra dungeons, extra endings, etc. and the such will likely launch as post-release content (see Shovel Knight). Stretch Goals can be seen at the bottom of this post.
A playable prototype has been made for
Steam
,
Windows
,
Mac
and
Linux
or can be found on
PS4(US)
or
PS4 (EU)
. It can also be found on the Indiegogo page (on your Humble Bundle page if you were a Skullgirls backer). If your computer can run Skullgirls with the 3D backgrounds on (which should apply to the majority of modern computers) you are good to go in regards to computer requirements. If you have any difficulties, especially on Windows 8 and Windows 10, try installing the
Direct X 9 Runtimes drivers
. You are free to stream the prototype and upload videos to Youtube, etc. as you wish. This way, you can get a good sense of what the game will look like. If you can't play the prototype, you can watch the
Two Best Friends
playthrough below:
Or the
Game Grumps
Playthrough:
Or the
Jim Sterling
Playthrough:
A good video going into more detail about the battle system can be found here:
The main character of the game is Ajna:
Playable Incarnations (party members) that have been revealed so far (the first three are already in the prototype, the remainder will be in the full game):

A number of playable guest characters from a variety of other indie games have also been announced: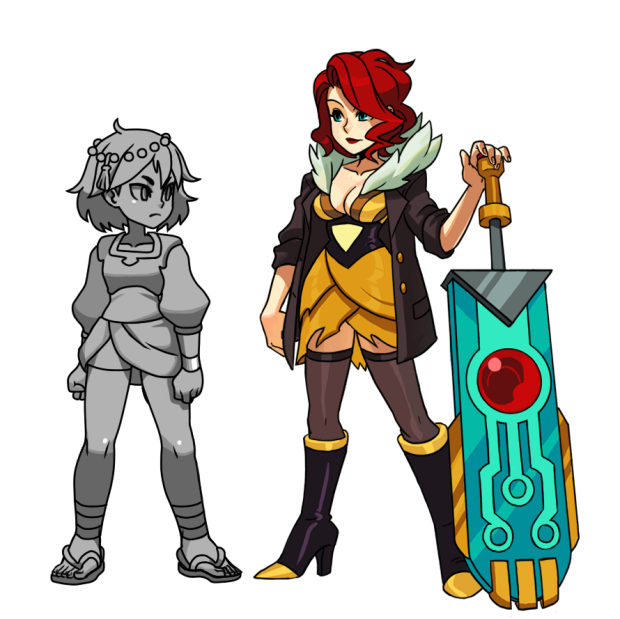 As is the norm, the game has a
Twitter
&
Tumblr
account as well as a
DevBlog
. In addition to more information and a means to ask the developers questions, these resources also have some extra art, animations and fanart. I'll update this post over the course of the campaign. Hopefully, after playing or looking over the prototype and reading more about it, this will seem up your alley

STRETCH GOALS:
$1,650,000 - More Music by Hiroki Kikuta (REACHED!)
Indivisible is currently budgeted to have between 60 and 90 minutes of music from Kikuta-san, and we'd like to expand that by at least another hour!
$1,900,000 - Animated opening by Titmouse and Mystery Anime Studio (REACHED!)
We'll partner with Titmouse and a mystery anime studio to create a high-octane opening animation! Titmouse will storyboard everything, and it'll be executed by the anime studio!
About Titmouse
Titmouse Animation was founded in 2000 by husband/wife power couple Shannon
and Chris Prynoski, producing absurdist, dynamic 2-D animation that hungry college kids with twisted sense of humor just can't get enough of. It has since evolved into a full service production company developing content for even the wee ones, and employing over 200 gifted artists in LA, NYC, and Vancouver.
About Mystery Anime Studio
Unfortunately we can't reveal who the mysterious anime studio is yet. We have a commitment from them, but until things are a little more nailed down they've asked that we hold off on revealing who they are.
$2,050,000 - Full VO for all major characters
Indivisible is currently budgeted to only have voices in battle and some critical story scenes. With the money raised for this stretch goal, we'll expand the voice acting to cover all interactions with major characters.
$2,300,000 - Multiple endings & hardcore bonus dungeon
After the game is released, we'll update it with multiple endings and a hardcore post-game bonus dungeon, with new monsters and more!