Still no Psn Avatars...
Dominique

New Blood

[TI1]

Posts: 5

Post by Dominique on Jun 27, 2020 20:47:37 GMT -6

"Is there anything else you need?" -Dominique
Shoutbox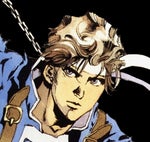 RichterB
:
My fan art I've been working on and off on is about 97% done. Just need to clean up a few things. Probably be out next week if all goes well. Prepare for some Goofball!

(among other old friends).


Jul 9, 2020 21:27:22 GMT -6