Post by Pure Miriam on Apr 3, 2019 2:12:14 GMT -6
Bloodstained: Ritual of the Night will be released in summer 2019. We are months away from that and the game is being finished and refined as we speak. Bloodstained was promised to be IGA's biggest game overall, and that does not seem to be a lie, considering how much we know about the game already and how much we still need to know.
Taking a look at my thread "
TRIVIA: All Bloodstained "things" so far
" i noticed that the comparison of certain information that we already have about the game, with other Igavania games, gives us a interesting perspective about how long the game will last.
Considering my compilation, Bloodstained has these numbers, as of now:
BLOODSTAINED: RITUAL OF THE NIGHT (so far)
---
Weapons:
50.
Gear (Head, Body, Acessory, Scarf):
39.
Items (Potons, Food, Crafting and Cooking, Others, Unknown):
69.
Enemies:
42.
Bosses:
6.
Powers (Shards and Techniques):
44.
Game size:
Unknown. 10 locations confirmed so far (Ghaleon Minerva, Arvantville, Entrance, Garden of Silence, a Japanese area with no official name, Clock-Tower-like region, Golden-staircases region, Church of Dian Cecht, Lava Cavern region, Library region). Game confirmed to have at least 1600+ rooms or almost 2x Symphony of the Night.
---
If we take only two other Igavania games, Symphony of the Night (for being the biggest) and Dawn of Sorrow (for the inspiration on Shardbinder / Soul Dominance) we have this:
---
SYMPHONY OF THE NIGHT
Weapons:
69.
Gear (Armor, Cloaks, Sheld, Head Gear, Accessories):
99.
Items:
88.
Enemies:
146.
Bosses:
18.
Powers (Alucard Spells):
6.
Game size:
Two castles. 33 locations. 1890 rooms.
---
---
DAWN OF SORROW
Weapons:
76.
Gear (Armor, Acessories):
30.
Items:
60.
Enemies:
116.
Bosses:
18.
Powers (Souls):
117.
Game size:
One castle. 12 locations. 1023 rooms.
---
That leads us, first, to some impressive comparison on numbers. Let's assume we saw around 10% of Bloodstained (it can be less).
Bloodstained has 50 weapons as of now. SOTN on it's fullest has 69. 10% of Bloodstained has 19 weapons less than the whole SOTN.
Bloodstained already has more Gear than Dawn of Sorrow and we don't know the whole game yet (39 for Bloodstained, 30 for Dawn of Sorrow).
Dawn of Sorrow had 12 locations, Bloodstained seems to have at least 10 as of now.
All that shows that Bloodstained will be a gigantic game, it doesn't matter where you look at.
Talking specifically about regions / locations though, it is harder to speculate, because we don't know yet, considering all demos and videos, what is a location and what isn't. Some data may be incorrect (like the golden staircases region that can be just some connection to other place). My data on that is based on videos that we saw.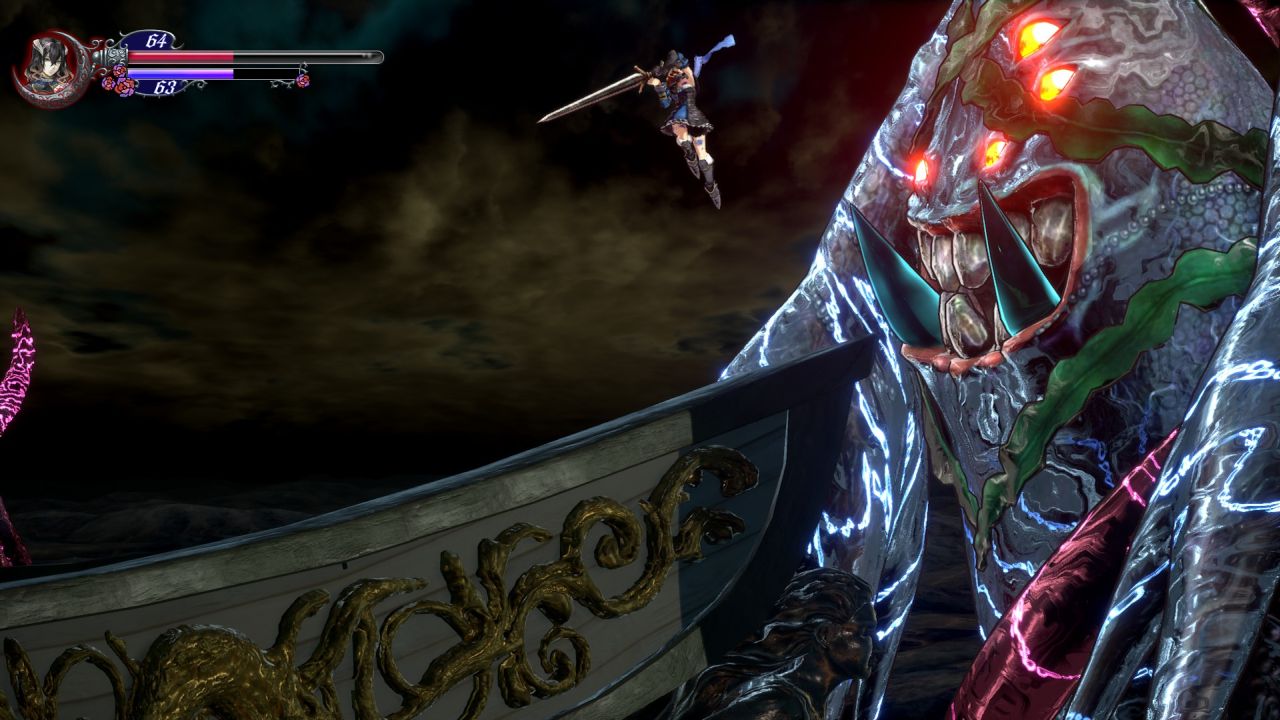 JAPANESE AREA WITH NO OFFICIAL NAME
---
Some of these areas may be the same, but i believe they are all different one another.
Anyways, this was just a commentary / interesting data i realized while looking at it.
---
That's all folks!