Post by tav7623 on May 16, 2018 16:29:14 GMT -6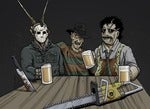 roguedragon05
- as far as a separate thing I agree (though for a slightly different reason) that sadly they probably won't do a release for CotM's soundtrack which is why I'm hoping it would be included with the copy of RotN's soundtrack that backers are suppose to get
freddythemonkey
- I agree that it probably would be too small to justify the effort, but given that Mondo & Konami went through the trouble of doing a vinyl release (which a lot of game soundtracks have been getting lately) of the first four Castlevania game's soundtracks I feel that there may be a very small glimmer of hope that should CotM's soundtrack not be included with RotN's they could somewhere down the road decide to do something similar.
That operation was a godsend for a vinyl junkie like me lol
I can see your reasoning but I don't think it's applicable to the situation, because Mondo is a company specialized in some very specific niches and usually these kinds of operation are destined to particularly important/vintage/historical games. For example, even if IMO it has the best soundtrack in the series I would never expect Curse of Darkness to be graced by such an operation because it's still not enough "retro" to be considered vintage like the NES vanias (and to an extent SCV4) nor historical like SotN. Curse of the Moon, being a spin off of a game that yes, is made by IGA but still has to come out/establish itself is a hundred times more improbable of an operation.
But maybe my pessimistic assumptions will prove wrong in the end - the easiest way would to use only 8-bit versions of Bloodstained tracks, so that they can fit nicely in Ritual's soundtrack (hopefully even as a bonus CD).
Yeah I know (I have all 4 of them, all of which are the split variants including the CV 1 SDCC exclusive Red/Grey split & the CV 2 3 hr web exclusive Day/Night split), I was just using Mondo's CV 1 release (which only had the NES version of the soundtrack and not both the NES & the Famicom versions like their CV 2 & 3 releases had) as an example (I honestly don't think they, inti creates, will do a CotM vinyl release no matter how popular the game gets, but I could see them possibly doing it as a digital download or a bonus CD) since it's a fairly short soundtrack (if I remember correctly it's less than 15 mins long) and I feel Curse of the Moon's soundtrack would probably (unless they went full on Shovel Knight with the game's soundtrack) be in the same ballpark. Also I feel that a game's soundtrack being old/retro or having some historical importance doesn't really matter (in the grand scheme of things) when it comes to deciding which game gets a vinyl release because I've seen vinyl releases for games like Steamworld Dig (which, by the way, was put out by Fangamer who if I remember correctly are also the ones doing the backer fulfillment for Bloodstained), Undertale, Thimbleweed Park, What Remains of Edith Fitch & Warframe just to name a few.