Post by CastleDan on Aug 25, 2017 15:44:15 GMT -6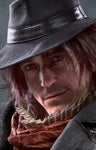 . 
You mentioned "cooking mama with miriam". So yeah, I assumed you meant like the actual game. I don't know if anyone bothered to actually read my posts, but I said: "Let me be abundantly clear: I have no problem if cooking itself is in the game. If it's just a menu where you instantly combine other food or materials (like milk) to make better food, that's great."

when i said "cooking mama with Miriam" i was making a joke referencing 
XombieMike
commentary in the podcast not that i wanted to have an actual cooking mama in the game. even i think thats unfiting in Bloodstained. im also pretty sure i said im EXPECTING A COOKING MINIGAME OR JUST A COOKING FEATURE never said it had to be cooking mama carbon copy with gothic style and exotic food and i also never said that i wanted it. like i said before im a potion guy and i rather make lots of colorful potions than Mac n cheese but i dont mind to give it a try.
SOTN IS BROKEN! IN TEMRS OF USEFULNESS!! and balance.
This isn't quite true, though. In terms of usefulness, most items were pretty useful. You could use the consumable weapons to deal some good damage, healing/restoration items were helpful if you were underleveled or up against an enemy like a Final Guard, and there wasn't a single weapon that didn't have a viable use that I remember. Even the Red Rust was useful: if you hit either of the doppelganger bosses with it, they would be cursed and unable to attack you.



As for balance, you're right. Crissaegrim and dual Rings of Varda broke the game. However, I could also say the same about the Claimh Solais (which you and Chaos Ring in Aria of Sorrow, as well as the Claimh Solais in Dawn of Sorrow. In most of the IGAvanias, as soon as you get the best weapons, the game becomes a cakewalk. There's nothing really wrong with this usually, but it is slightly flawed in that you can (emphasis on "can", since it usually takes forever) farm Schmoos until you get the Crissaegrim, which you can then use to roflstomp the last few bosses. I wouldn't say this horribly breaks the game, since you'll still probably be a fair ways through the inverted castle by the time you get a Crissaegrim drop (especially if you don't use the internet). But yeah, it could have been circumvented.

yes weapons were pretty much unique and thats my favorite thing of the game and the way you use them depends pretty much on your style but that doesnt have a huge or noticeable impact on the game. 
consumable buffs: were optional but not needed not even for a new player that has never played sidescrollers
thrown items: nice damage from safe distance but limited and that same damage could be dealt by spending some MP on spirits.
foods: well they were faster than potions but usually weaker and if i met Alucard irl my first question would be: why do you throw the food the floor before eating it?
the game give you to many options and thats amazing but i happen to have this one sword that does damage for free at a very fast rate without degrading or breaking.
purifyweirdsoul
already mentioned the rest
and cursing doppel was not always a good idea. when i did it he ended up spamming knives and wing dashes so i was forced to "glitch him" to make him jump at me over and over until he died.
Crissaegrim is not the only unbalanced weapon in the game and you get that late game also while claihm solais was under the category of broken it was supernerfed in the subsequent games (slowed down with the bonus stats removed).
in SOTN all you needed to run through the game without having to worry is~
1. Tetra spirits

2. SOUL STEAL.



New game (First segment of the castle before Double Jump)
- Any weapon (unless you are terrible at dodging or that you forget that you cant touch enemies the first segment is extremely easy (ignoring Ctulhu))
- Rapier (extremely powerful special attack that has 0 MP cost)

- Firebrand (many enemies are weak to fire and its special attack its so strong it makes Ice and thunderbrands look weak however its costly)
- Potions and Food (being the beggining of the game the player has acces to some recovery items, also potions are cheap and droped by bats as soon as the game begins)(and yes im aware a new player will not know about the hidden items or monster drops but still!)



Early Game (Double Jump and acces to the Arena)
- A weapon of your choice (game difficulty increases a bit but so does the player skill. this time the player has a wide choice for exploration and acces to more powerful weapons)
- Shield Rod + Iron Shield (Extremely Broken can decimte entire rooms and destroy bosses in 1 to 3 casts for low MP cost. tho new player will probably wont know about were to get iron shield or the shield rod secret)

- Rapier or Werebane (Still viable options due to their stupid specials)
*-Ring of Varda (theres a parantrophus in the arena but it will only drop the ring if you have finished the game at least once)



Mid Game (Bat form and the super jump)
- A weapon of your choice (you are still in the first castle and the difficulty its pretty much the same even if you didnt overlevel)

- Shield Rod + Iron shield (still dominates)
- SOUL STEAL (player should have enough MP to cast it a few times and can easily Replace Healing items unless you have to use it for transformations also aparently candles and walls have souls too)

- Spike breaker (very high defense for a critical item ,in fact i think it has the highest defense for castle 1 only losing to Diamond mail but that thing is super expensive)



Late Game (Inversed Castle)

- A powerful weapon (sht got serious and player will probably die A LOT unless ofc player rushes the next weapons)

- Crissaegrim
- Marsil (Firebrand in a nutshell)

- Dark Shield (scary look and scary Damage)
- Mablung sword (Shield rod with higher damage and increase to defense)

- Alucard shield + shield rod/mablung sword (you become God)
- Red looking katana i think it was yasutsuna? or osafune? i forgot (super high damage but reduces your DEF to 0)

- Lunar Rod (Special attack that does huge damage in a large area from very safe distance)

- Sword familiar leveled (if you got it to at least lv40 or higher its really powerful as a familiar)

- even More Soul steal (you should be leveling like crazy till lv45 before final knights so your MP should be high enough to cast it 5 or more times in a row)

- More katanas because katanas are OP

- Alucard sword (not really overpowered but still strong)

- Alucard Mail (broken defense against Fire, Ice and Thunder)


im sure i forgot some really OP weapons.
---
LeoLeWolferoux
i cant really blame 
XombieMike
for that, it was the perfect chance to mention cooking mama.
... hey arent you the master of Bloodstained Demo grinding? can i have your Autograph?
I know your making the point that the game is too easy because of how unbalanced it is but all I'm reading is... it had this cool feature and that cool feature and this cool weapon and that cool weapon