Post by Pure Miriam on Nov 2, 2016 1:20:42 GMT -6
www.rappler.com/technology/150804-koji-igarashi-bloodstained-qa-esgs
RAPPLER INTERVIEW

---
Q: First of all, congratulations on your new, upcoming game, and welcome to the Philippines! There are a lot of Castlevania fans in the Philippines who are glad that you're here. What do you think of the reception so far?
Koji Igarashi:
When we create games, we always market them towards North America, Europe, and Japan. Upon coming here, we had no idea how many Filipino fans there were. And after coming here we found out that there were so many, so many fans here and so we were surprised and we didn't expect that there were this much fans here.
Q: Bloodstained is obviously very inspired by Castlevania games, are there any other games that inspired the new game?
KI:
Bloodstained was created based on the previous Castlevania series. And in order for the Castlevania fans to enjoy Bloodstained we had to create a gothic horror, 2D, action platformer piece – and this was already decided from the very beginning. I don't know if I would consider this an inspiration but I've always wanted to create a game based on alchemy and crystal shards and that's where the actual setting came from.
Q: What about pop culture pieces like books and movies? Were you inspired by any of those?
KI:
So there's not really much of a pop cultural reference but at the time that we were developing Bloodstained, there was a political problem in Japan. And when I was thinking of this political problem, there are people that would have an advantage and disadvantage when certain things take place.
So when I was thinking about Bloodstained with alchemy, and the industrial revolution, I thought "who [was] going to be at a disadvantage in an Industrial revolution?" Well perhaps it would be alchemy. Alchemists will be at a disadvantage when the industrial revolution rose, so that's where the concept comes from. So I wouldn't say that the references came from pop culture but more of like textbooks [about] the Industrial Revolution.
Q: You probably have one of the most successful games on Kickstarter, and with crowdfunding, I imagine you now have a deeper connection with your community. What have you taken or learned from getting your game crowdfunded by your dedicated fans?
KI:
When we started the Kickstarter, we were able to develop this game while listening to our fans' voices. This is very new to me. Upon creating Bloostained and the demo we get to hear the backer's opinion and we never got to have this chance kind of chance with the community. When we released the E3 demo, we even got a glitch report or a bug report and we weren't really expecting that. So it's been really helpful and yeah, it's just been really new for us.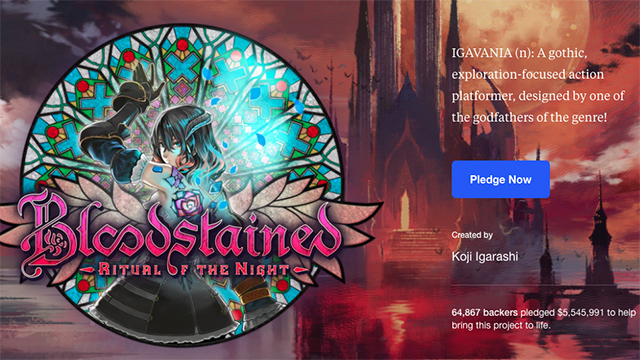 Q: Would you say it's easier to have a game crowdfunded than going the traditional route of working for a company like Konami?
KI:
Both are very difficult and I can't say which one's harder. When we were making this Kickstarter campaign, the difficult part about it is that we had to create all these materials way beforehand, before we even started the campaign. And this is something that we don't usually do in the traditional way. But when the Kickstarter is funded we could see where the fans are, [and] what the fans want, but we always have to keep updating the fans and this is very difficult for us.
But when we're in a bigger company we don't know what's going to sell and we have to kind of gather information from fans that we don't even know if they would buy the game. So for Kickstarter you know that people are backing the game and these are the people that really want the game, and in that terms it's very easy.
But to maintain the Kickstarter campaign, it's very difficult and it's not the same as the traditional way. So in that sense, both of them are very difficult.
Q: How does it feel to be able to create a game with so much impact and so much influence that many are still craving for that same classic formula you've created many years ago?
KI:
Seeing the fans from over the years, these fans that are still wanting to play this kind of game, I'm very glad that I made this series continue. But at the same time, I also feel that I can't let them down anymore. It's very difficult for me to keep it up but at the same time it's also why I continue.
Q: If you had the creative freedom, would you want to make a new game with your classic formula or would you want to venture into something else?
KI:
Over the years, I've been thinking about for this decades and there's this game that I really want to make, but I know it's not going to sell and I know people aren't going to like it. But I always keep imagining this game in my head and maybe if Bloodstained does very well and I receive a lot of money or funds from it. Maybe I might create it but I know it's not going to sell.
Q: Why aren't you confident that it's not going to sell when you have a lot of fans following you and backing you up?
(Editor's note: Igarashi's translator answers for him here.) Answer:
Because it's completely different from Castlevania series. He wants to create a completely new game so it's kind of a gamble for him.
Q: Is this game of yours a more modern one or an old-school type of game?
KI:
Actually I've been thinking of this game for more than ten years so I don't know if I would consider this very modern. But this is a game that might be loved by a certain group of people and also something that I would enjoy very much. So I don't know if I would consider it modern, but well, it's created in 3D in my mind.
---
---
---
www.thebitbag.com/bloodstained-ritual-of-the-night-2-koji-igarashi-reveals-his-plans-after-kickstarted-game/196175
BITBAG INTERVIEW
---
WHAT'S NEXT FOR IGARASHI

---
In the interview, Igarashi said he's interested in making a Bloodstained sequel, but he doesn't want to set things in stone yet. The famed Castlevania creator wants to commit to Bloodstained's release this coming 2018. Fans may allot more time and promote the game more if they want to see a "Bloodstained Ritual of the Night 2".
"Very much, we would love to make a sequel for Bloodstained," Igarashi told The BitBag via a translator at the E-Sports and Gaming Summit 2016 (ESGS) in the Philippines. "But at the same time, we have to focus on the current game and we have to know if it sells well. At this point we are not sure, but we would like to make one."
Igarashi also said he has an idea to create a game that's entirely different from Castlevania. However, he is hesitant to turn his idea into a reality as he believes people will not like it and it might possibly flop.
CAUSE OF DELAY

---
Igarashi also fully discussed the reason behind Bloodstained Ritual of The Night's delay. Previously, Igarashi's "Developer Update 6" confirmed that the game was not meeting his intended quality for it. He has re-affirmed that Bloodstained's delay happened due to his interest in ensuring that the final build is as good as the E3 demo.
"In the very beginning when we released the E3 demo, we wanted to keep that quality for the final game. But with the development style that we built, we thought that was impossible so we couldn't keep that quality line from the E3 demo. It just took too long during that time so that's why we announced that we have to delay it."
Igarashi also said they also don't consider the change in date as a delay. "The release date on the Kickstarter page, we can't change that during the campaign. We don't really consider this a delay," Igarashi said.
The unexpected success of the game on Kickstarter was also the reason why they pushed back the game's launch. "When we reached the funding goal, we didn't expect there to be so many stretch goals. In order to complete all the stretch goals within that time and keep that quality line, we sort of had to change that to 2018 instead of 2017.